St. Nicholas the Wonderworker, Archbishop of Myra in Lycia (ca. 345). St Maximus (1280).

St. Nicholas the Wonderworker, archbishop of Myra in Lycia.
Before Reading the Holy Scripture
Illumine our hearts, O Master Who lovest mankind, with the pure light of Thy divine knowledge. Open the eyes of our mind to the understanding of Thy gospel teachings. Implant also in us the fear of Thy blessed commandments, that trampling down all carnal desires, we may enter upon a spiritual manner of living, both thinking and doing such things as are well-pleasing unto Thee. For Thou art the illumination of our souls and bodies, O Christ our God, and unto Thee we ascribe glory, together with Thy Father, Who is from everlasting, and Thine all-holy, good, and life-creating Spirit, now and ever and unto ages of ages. Amen.

VESPERS

Proverbs 10:7, 6; 3:13-16; 8:6, 32, 34, 4, 12, 14, 17, 5-9; 1:23

7 The memory of the just is blessed: but the name of the wicked shall rot. 6 Blessings are upon the head of the just: but violence covereth the mouth of the wicked. 13 Happy is the man that findeth wisdom, and the man that getteth understanding. 14 For the merchandise of it is better than the merchandise of silver, and the gain thereof than fine gold. 15 She is more precious than rubies: and all the things thou canst desire are not to be compared unto her. 16 Length of days is in her right hand; and in her left hand riches and honour. 6 Hear; for I will speak of excellent things; and the opening of my lips shall be right things. 32 Now therefore hearken unto me, O ye children: for blessed are they that keep my ways. 34 Blessed is the man that heareth me, watching daily at my gates, waiting at the posts of my doors. 4 Unto you, O men, I call; and my voice is to the sons of man. 12 I wisdom dwell with prudence, and find out knowledge of witty inventions. 14 Counsel is mine, and sound wisdom: I am understanding; I have strength. 17 I love them that love me; and those that seek me early shall find me. 5 O ye simple, understand wisdom: and, ye fools, be ye of an understanding heart. 6 Hear; for I will speak of excellent things; and the opening of my lips shall be right things. 7 For my mouth shall speak truth; and wickedness is an abomination to my lips. 8 All the words of my mouth are in righteousness; there is nothing froward or perverse in them. 9 They are all plain to him that understandeth, and right to them that find knowledge. 23 Turn you at my reproof: behold, I will pour out my spirit unto you, I will make known my words unto you.

Proverbs 10:31-11:12

31 The mouth of the just bringeth forth wisdom: but the froward tongue shall be cut out. 32 The lips of the righteous know what is acceptable: but the mouth of the wicked speaketh frowardness. 1 A false balance is abomination to the LORD: but a just weight is his delight. 2 When pride cometh, then cometh shame: but with the lowly is wisdom. 3 The integrity of the upright shall guide them: but the perverseness of transgressors shall destroy them. 4 Riches profit not in the day of wrath: but righteousness delivereth from death. 5 The righteousness of the perfect shall direct his way: but the wicked shall fall by his own wickedness. 6 The righteousness of the upright shall deliver them: but transgressors shall be taken in their own naughtiness. 7 When a wicked man dieth, his expectation shall perish: and the hope of unjust men perisheth. 8 The righteous is delivered out of trouble, and the wicked cometh in his stead. 9 An hypocrite with his mouth destroyeth his neighbour: but through knowledge shall the just be delivered. 10 When it goeth well with the righteous, the city rejoiceth: and when the wicked perish, there is shouting. 11 By the blessing of the upright the city is exalted: but it is overthrown by the mouth of the wicked. 12 He that is void of wisdom despiseth his neighbour: but a man of understanding holdeth his peace.

Wisdom 4:7-15

7 But though the righteous be prevented with death, yet shall he be in rest. 8 For honourable age is not that which standeth in length of time, nor that is measured by number of years. 9 But wisdom is the gray hair unto men, and an unspotted life is old age. 10 He pleased God, and was beloved of him: so that living among sinners he was translated. 11 Yea speedily was he taken away, lest that wickedness should alter his understanding, or deceit beguile his soul. 12 For the bewitching of naughtiness doth obscure things that are honest; and the wandering of concupiscence doth undermine the simple mind. 13 He, being made perfect in a short time, fulfilled a long time: 14 For his soul pleased the Lord: therefore hasted he to take him away from among the wicked. 15 This the people saw, and understood it not, neither laid they up this in their minds, That his grace and mercy is with his saints, and that he hath respect unto his chosen.


MATINS

John 10:9-16

9 I am the door: by me if any man enter in, he shall be saved, and shall go in and out, and find pasture. 10 The thief cometh not, but for to steal, and to kill, and to destroy: I am come that they might have life, and that they might have it more abundantly. 11 I am the good shepherd: the good shepherd giveth his life for the sheep. 12 But he that is an hireling, and not the shepherd, whose own the sheep are not, seeth the wolf coming, and leaveth the sheep, and fleeth: and the wolf catcheth them, and scattereth the sheep. 13 The hireling fleeth, because he is an hireling, and careth not for the sheep. 14 I am the good shepherd, and know my sheep, and am known of mine. 15 As the Father knoweth me, even so know I the Father: and I lay down my life for the sheep. 16 And other sheep I have, which are not of this fold: them also I must bring, and they shall hear my voice; and there shall be one fold, and one shepherd.


LITURGY

Hebrews 13:17-21

17 Obey them that have the rule over you, and submit yourselves: for they watch for your souls, as they that must give account, that they may do it with joy, and not with grief: for that is unprofitable for you. 18 Pray for us: for we trust we have a good conscience, in all things willing to live honestly. 19 But I beseech you the rather to do this, that I may be restored to you the sooner. 20 Now the God of peace, that brought again from the dead our Lord Jesus, that great shepherd of the sheep, through the blood of the everlasting covenant, 21 Make you perfect in every good work to do his will, working in you that which is wellpleasing in his sight, through Jesus Christ; to whom be glory for ever and ever. Amen.

Luke 6:17-23

17 And he came down with them, and stood in the plain, and the company of his disciples, and a great multitude of people out of all Judaea and Jerusalem, and from the sea coast of Tyre and Sidon, which came to hear him, and to be healed of their diseases; 18 And they that were vexed with unclean spirits: and they were healed. 19 And the whole multitude sought to touch him: for there went virtue out of him, and healed them all. 20 And he lifted up his eyes on his disciples, and said, Blessed be ye poor: for yours is the kingdom of God. 21 Blessed are ye that hunger now: for ye shall be filled. Blessed are ye that weep now: for ye shall laugh. 22 Blessed are ye, when men shall hate you, and when they shall separate you from their company, and shall reproach you, and cast out your name as evil, for the Son of man's sake. 23 Rejoice ye in that day, and leap for joy: for, behold, your reward is great in heaven: for in the like manner did their fathers unto the prophets.


Tuesday

LITURGY

1 Timothy 1:8-14

8 But we know that the law is good, if a man use it lawfully; 9 Knowing this, that the law is not made for a righteous man, but for the lawless and disobedient, for the ungodly and for sinners, for unholy and profane, for murderers of fathers and murderers of mothers, for manslayers, 10 For whoremongers, for them that defile themselves with mankind, for menstealers, for liars, for perjured persons, and if there be any other thing that is contrary to sound doctrine; 11 According to the glorious gospel of the blessed God, which was committed to my trust. 12 And I thank Christ Jesus our Lord, who hath enabled me, for that he counted me faithful, putting me into the ministry; 13 Who was before a blasphemer, and a persecutor, and injurious: but I obtained mercy, because I did it ignorantly in unbelief. 14 And the grace of our Lord was exceeding abundant with faith and love which is in Christ Jesus.

Luke 21:12-19

12 But before all these, they shall lay their hands on you, and persecute you, delivering you up to the synagogues, and into prisons, being brought before kings and rulers for my name's sake. 13 And it shall turn to you for a testimony. 14 Settle it therefore in your hearts, not to meditate before what ye shall answer: 15 For I will give you a mouth and wisdom, which all your adversaries shall not be able to gainsay nor resist. 16 And ye shall be betrayed both by parents, and brethren, and kinsfolks, and friends; and some of you shall they cause to be put to death. 17 And ye shall be hated of all men for my name's sake. 18 But there shall not an hair of your head perish. 19 In your patience possess ye your souls.
ADAM, WHERE ARE YOU? By Geronta Symeon Kragiopoulos (+2015) Homily 1: "Repent"[Part 7e 0f 10] "There we have it, that which is well-pleasing to God: repentance. The greatest, most beautiful and purest offering that a person can offer to God is repentance. Oftentimes, we think of too many other things. If, however, we offer our repentance to God, He will be overjoyed — as will the Holy Trinity and all the Angels. On account of our repentance, all of God's work for us will be faithfully confirmed — from the time Adam and Eve fell, but especially from the time the Lord came to earth."
Orthodox Agape by papademetrios
Sin as Illness
Sin is the Sign of Our Illness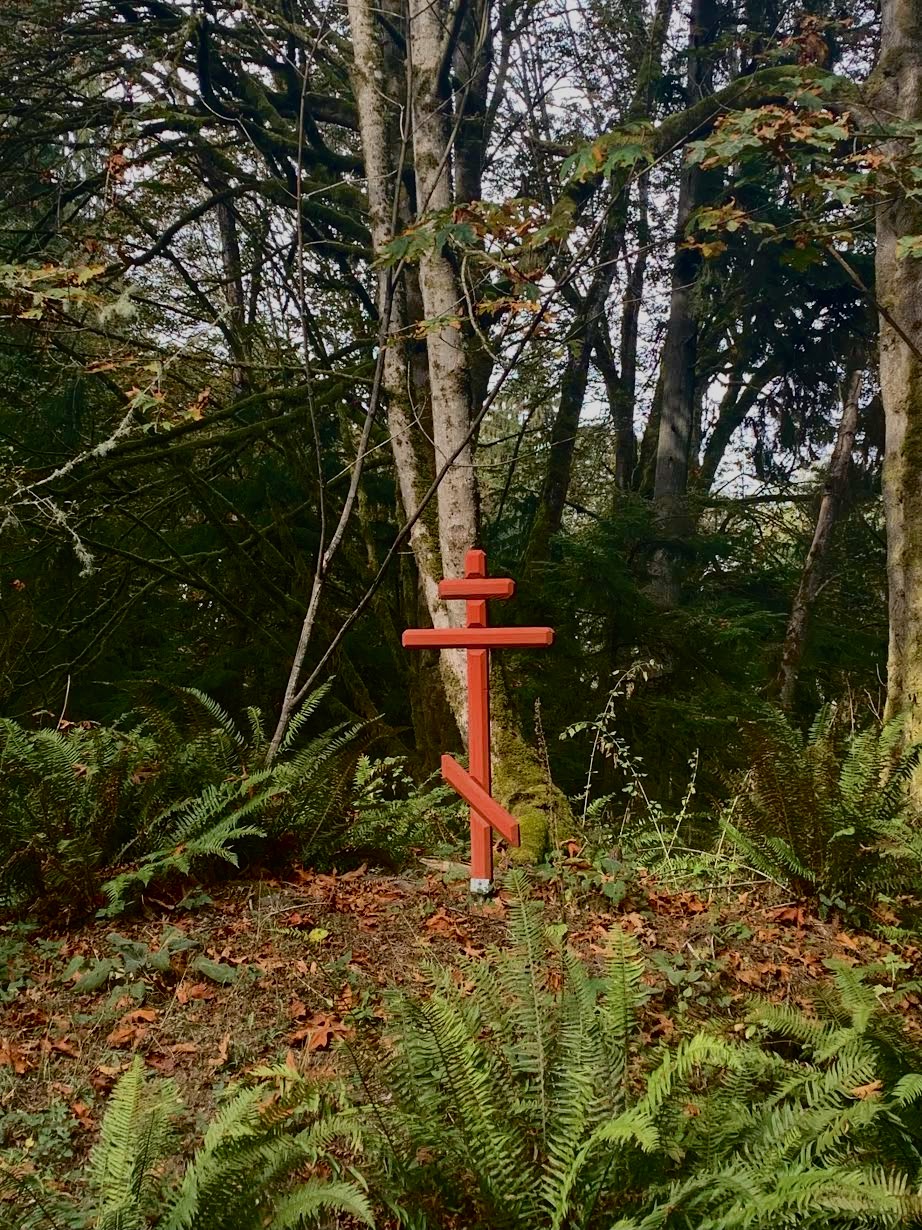 In our sense of guilt over our sinful nature, it is quite easy to gaze upon God as though looking upon a judge. We, as sinners, are guilty, and we stand in the dock as one before a judge. Yet the truth of our situation is far more sublime. This relationship with our God is not of a juridical nature, but it is personal. God is not offended by our sin, just as a doctor is not offended by a sick patient, or a mother offended by her sick child.
Because of the darkness of our nous (the eye of the soul), we have forgotten God's true nature, as well as our relationship to our Creator. We have replaced God with idols of self, and with material things. We have replaced God with people, with music, with social engagements, and in the process have become pagans.
In a word, we have become ill, and we are in need of the cure. The symptoms of our illness abound, but God's grace abounds in greater amounts, and the doors of the hospital (the Church) open wide to us.
With love in Christ,
Abbot Tryphon
—